Overview of the contents of the Menu
Travels

The chapter Travels relates to the countries which I visited, with photographs of bromeliads in habitat and some information about that habitat. There are also pictures of a general touristic nature, such as landscapes, towns, fauna and other points of interest.

Genera

This chapter starts with a list of currently recognized genera, with the number of described species, the countries where they can be found and some information about the environment where they occur. The list gives access to hundreds of bromeliad photographs, those indicated by *** are in large format (900 pixels width or height). Some are taken in habitat, of the other locations visited I mention the gardens of Kew, Berlin-Dahlem, Frankfurt, Heidelberg, Göttingen, Utrecht and Amsterdam (Free University and Plantage Hortus) and the nurseries of Corn. Bak B.V. (Holland) and DeMeyer-DeRouck and Reginald Deroose (both in Belgium). I thank everyone who gave me the opportunity to take photographs in places normally not accessible to the public.

Lists

There is a list with titles and information of all books ever published on the subject of bromeliads; it contains also a selection of titles of articles from periodicals.
Another list gives the names of all described species with their synonyms, complete with author and year of description; names of genera (past and current) are also included. If one is looking for a picture of a particular species, a photograph or a colorplate from an old publication, this list points that way too.

Links

Links to other websites dealing with bromeliads: from societies, magazines, nurseries and personal sites.

Texts in Dutch

These texts are meant for readers who understand the Dutch language, giving information about biology, culture, history and other aspects. Together they form an electronic book on bromeliads; there are no photographs included.

Old icons and botanical art

During the years 2007-2011 the author has published a series of articles in the Journal of the Bromeliad Society, a bimontly publication of the Bromeliad Society International. In those articles, magazines and books from predominantly the 19th century were treated that contained illustrations of bromeliads, mostly in the form of colored plates. This information is based upon those articles and often references are made to the BSI Journal.

News

The contents of new issues of bromeliad magazines.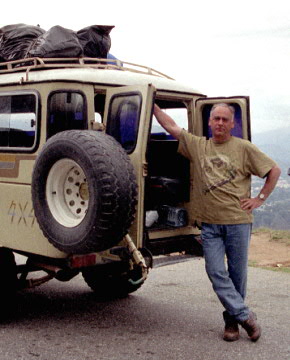 Introduction to the author

Botany and horticulture are interests that have evolved at a later stage in my life and I have no professional training in those fields; for most of my working years - I am retired now - computerprogramming earned me an income. Mainly from 1990 on I read about bromeliads and went to places such as botanical gardens and nurseries to photograph them. But the most rewarding way to observe them is in their natural habitat. So that I did and the visited locations are described in the chapter on travels.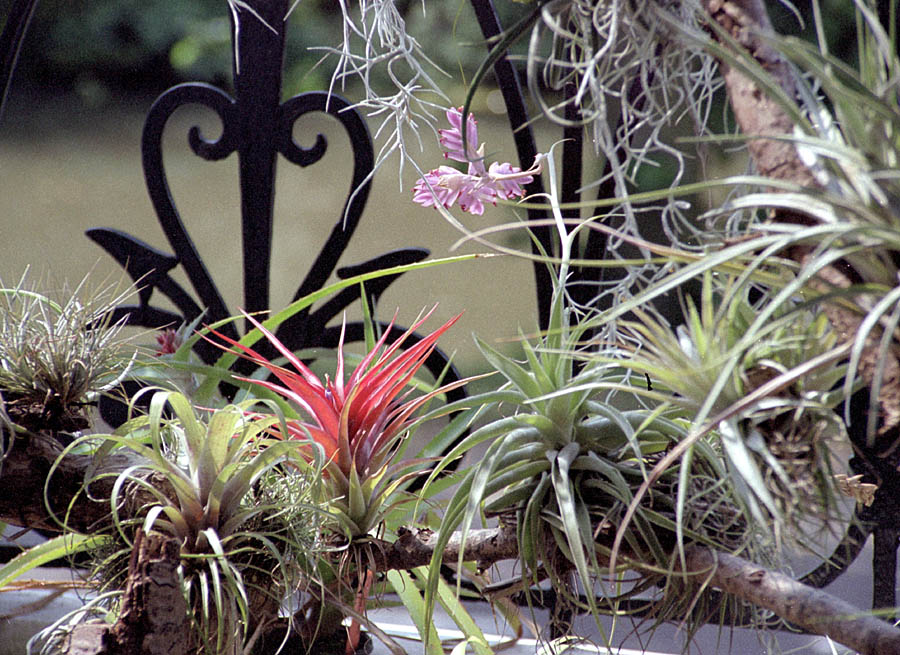 Introduction to bromeliads
Among the bromeliads we can find many species which have been cultivated and are now known as popular houseplants, particularly the ones which originate in the tropics. The origin however in terms of habitats of these plants is very diverse, it ranges from lowland tropical rainforest via high-level cloudforest to the heigths of the Andes mountains; even in coastal deserts they florish. This implicates a wide variety in climate and as a consequence the different species can show a great diversity in form and adaptation. Some love humidity, others prefer to keep it pretty dry, some grow in soil and on rocks, many grow on trees or on other plants where they seem to live from the air alone ("airplants").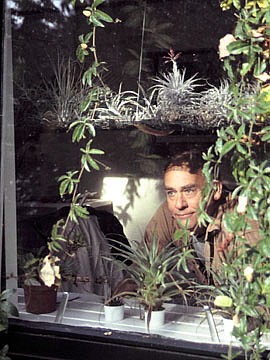 Bromeliads are herbs with leaves growing in the form of a rozet, after flowering - which for the most species takes some years to occur - they die. Happily before they do so they reproduce via the dispersal of seed or by the forming of new shoots.
Geographicaly the family Bromeliaceae ranges from Mexico (even some southern states of the USA) to the south of Argentina and Chili. There is only one species known not living on the American continent, so we can say that bromeliads are from the new world. The name "bromelia" honours the Swede Olaf Bromel and was given by Charles Plumier of France in 1703, however the plant was already known before that time by the indians as "karatas". The family belongs to the class of the Monocotyledons, characterized by seed having only one seedlobe. Mainly by the form of fruit and seed the species are grouped in 3 subfamilies and at the moment there are about 3000 described species, divided over some 50 genera. New species are still being discovered, notwithstanding the destruction of habitats by human activity. As mentioned, many bromeliads grow on trees, they are called epiphytes. This doesn't mean they are parasites, a name still in use locally in Latin America ("parasitos") and also used in an essay by a German scientist and plantcollector from the early 19th century: .
I end this introduction by citing a poem from "The collected poems and selected letters and prose of Hart Crane" (Liveright Publ. Corp., New York 1933):