Bolivia
Santa Cruz and Amboró N. P.

Every guidebook on Bolivia tells that in the city of Santa Cruz on the town square one of the trees is host to several sloths. That is true, however they are not on the picture below (but some doves instead). And in the same tree Tillandsia didisticha can be found.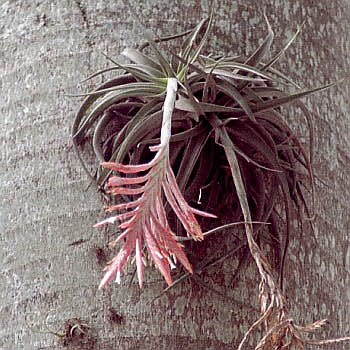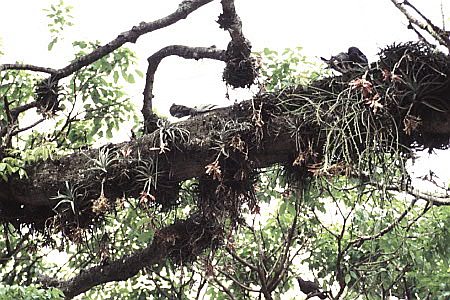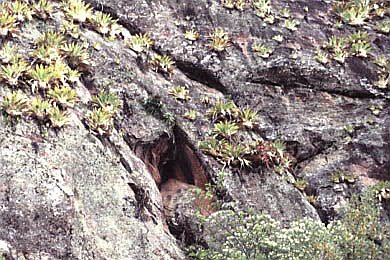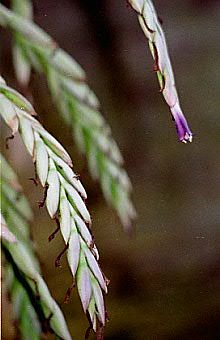 Several hours driving from Santa Cruz lies Amboró National Park and on that route, climbing in altitude from 500 to 1600 meter, the town of Samaipata. There, on the faces of steep rocks, two large Tillandsia species, both with pending inflorescences, can be found. One is the yellow Tillandsia samaipatensis, the other Tillandsia australis with purple coloured spikes. The latter is illustrated here, growing near the ruins of El Fuerte. It is difficult to get close, so I included some photos taken in the Frankfurter Palmengarten where the 2 m long spike remains green however due to insufficient light.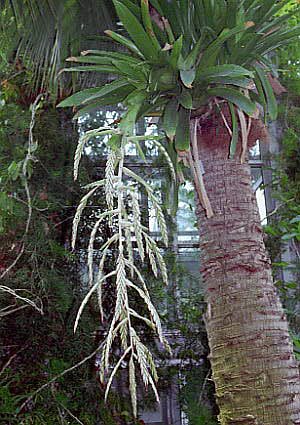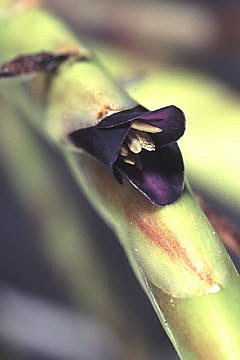 Amboró is a large park (630000 ha) with three ecosystems: rainforest, dry forest and a mountainous part. In the relatively dry area at 2000 m that I visited, bromeliads present were Vriesea maxoniana, Tillandsia biflora, Guzmania besseae and Guzmania killipiana.